Holiday Decor
The cooler temperatures and weather patterns of the Coastal Carolina region are officially here.  At Ebersole and Kelley we have some holiday decorating tips because we know that buying or selling a home during the holiday season can be a bit of a challenge– but don't worry, this is something we can help you to navigate!
Fall Decorating When Selling Your Home
We love the smells of cinnamon and pumpkin spice and the bright yellows and oranges of the fall mums, but did you know that most home buyer's do not appreciate the fall decor, as much as say, you or I might!  Who knew?
In fact, we do know this fact, and we highly recommend a tasteful fall wreath or strategically placed pumpkin or Fall Mum.  That's all you need to do to decorate for the season if you're selling your home.  
It's natural to want to create a welcoming environment and this simple and understated touch is just the way to welcome people as they visualize themselves in what could be their new home.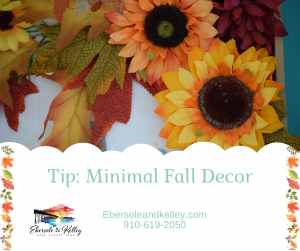 Winter and Holiday Decorating Tips
We are parents too, and we know that having children and attempting to move might be a challenge too, especially as the holiday season approaches. Approaching younger children who may be wanting to decorate for the holidays, with a strategic plan on keeping them happy, while allowing the home to be a little less personalized would be beneficial in the long – term.
One client had to move her 4 and 2 year olds during Christmas and that was the year that they began their tradition of packing up the car with some snacks and holiday treats and driving through light displays.  It has been 20 years since that little 4 year old girl started the tradition with her family, and she does it now to this day.
Having your home listed for sale is a special time and requires some sacrifice.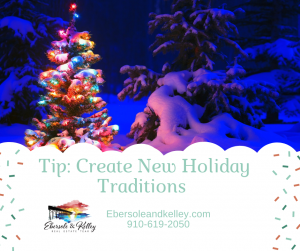 Don't Stress
The  holiday season can bring more emotional challenges as well. A sense of nostalgia  is only accentuated by the lack of family traditional décor. Consider carefully what to include and exclude. 
Scale back the unnecessary decorating extras and  concentrate on the special few items. In this way, you can still celebrate — or create new  family traditions while appealing to homebuyers looking for their own place to  call home. 
When you have questions about staging/buying/ or selling your home in the Wilmington area, you can trust the Ebersole & Kelley Real Estate Team to be your compassionate and professional partner.  Call or Contact Us today.  Tammy Ebersole or Carissa Kelley can be found at Coldwell Banker Seacoast Realty, located at  1001 N. Lake Blvd, Carolina Beach, NC 28428
910-619-2050 · [email protected] or [email protected]