Happy Veteran's Day
Honoring All Who Served
11.11.2022
__________
We are grateful for your devotion, courage and sacrifice.
As we approach Veteran's Day, we honor and salute the men and women in all branches of our Armed Forces.  To those who have served, those who continue to work tirelessly to secure our way of life, and to their families, we thank you for your service.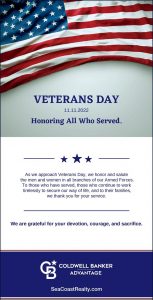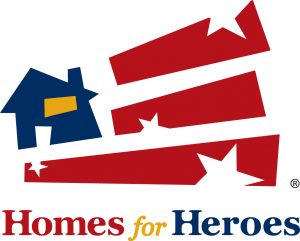 Bringing You Home:
Are You Ready To Buy Your New Home This Year Or Ready For Inspiration? Follow Us On Facebook, YouTube, Instagram Or Google!
When you're ready, give us a call at Ebersole & Kelley Real Estate Team by simply reaching out to one of the amazing professionals on our team:
Tammy Ebersole:  910-619-2050.  [email protected]
Carissa Kelley:  910-352-1745   [email protected]
Deanna Benton:  404.723.7212. [email protected]
Email Tammy or Carissa. or Deanna or simply make an appointment to stop by our office located at 1001 N. Lake Blvd, Carolina Beach, NC 28428.
Additionally, this quick form will let you reach the entire team and we'll get right back to you!