Explore the Carolina Beach Murals with Ebersole & Kelley Real Estate Team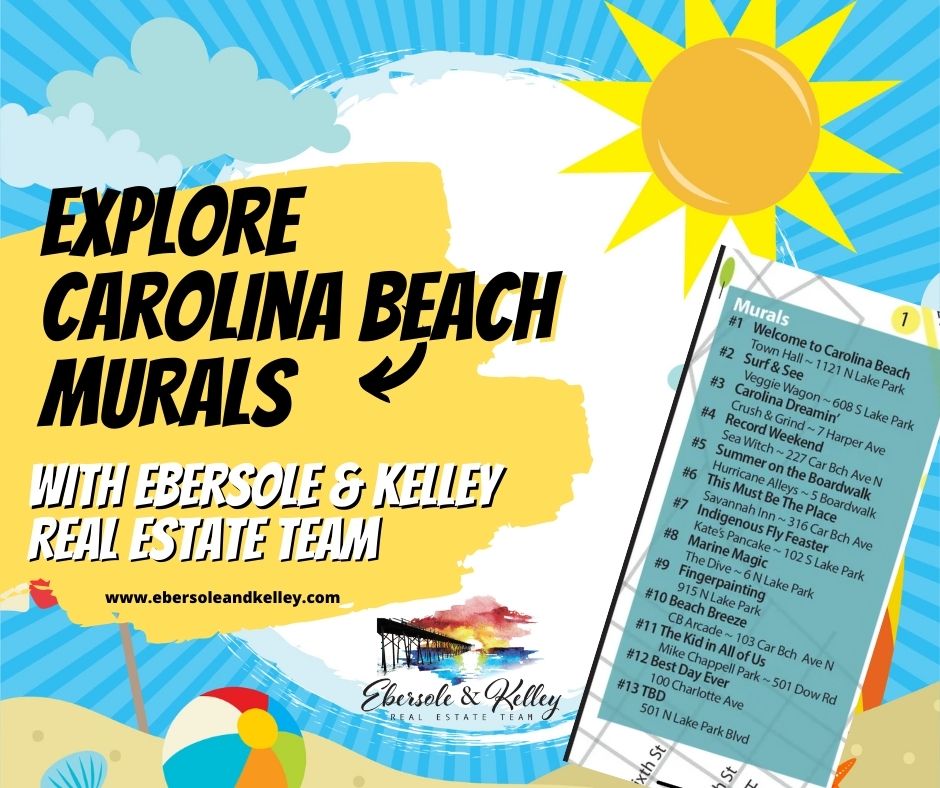 We took a little ride around the island, meeting at the Coldwell Banker Sea Coast Realty office and hopped on Tammy's blue golf cart to take a little tour of the Carolina Beach Murals.
The murals are part of a project organized by Carolina Beach Mural Project, where they are brightening up sides of buildings with gorgeous art, created to show the vibrant history and atmosphere of Pleasure Island.
We went a little out of order on our tour, according to the numbers on the mural locator map, but we did get to visit a few of the murals that day, before the rain that morning.  Carissa and Tammy had a great time grabbing a few shots of the murals and posing for a few photos.
This is the first installment of our little trip around the island!…. stay tuned for the next murals!
The Kid In All of US #11: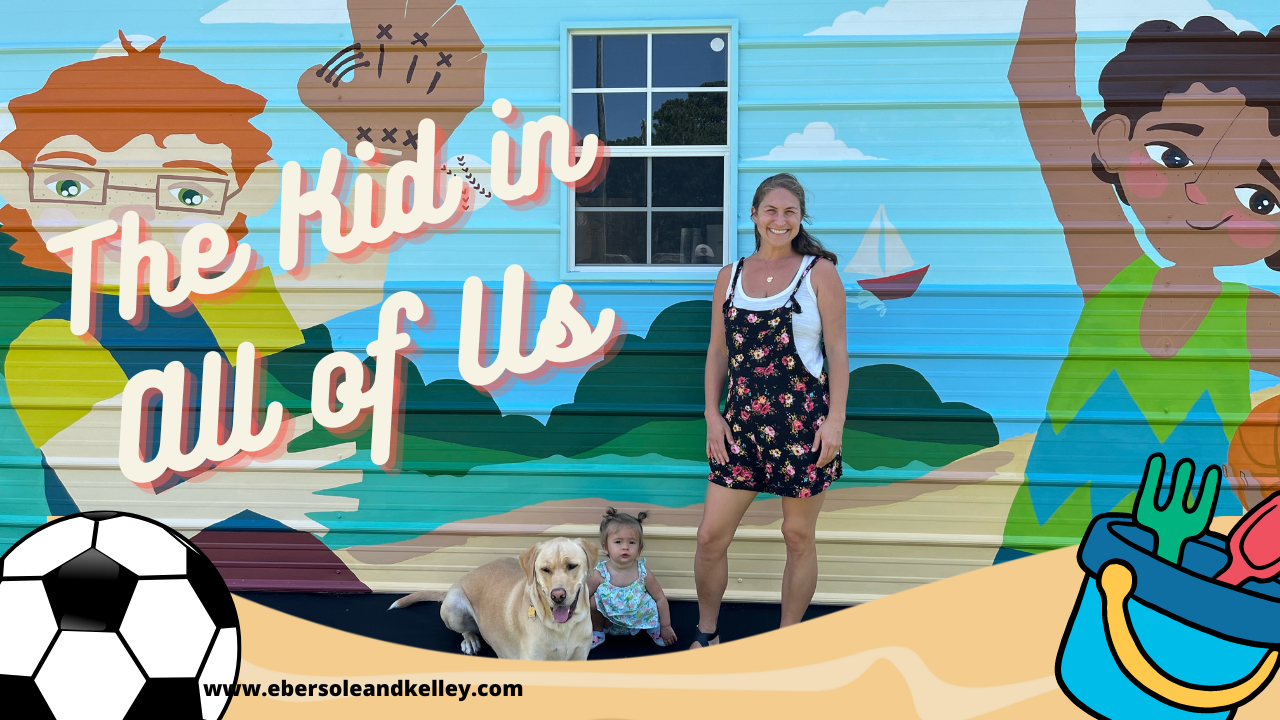 Deanna and baby Annabelle took their furry friend for a walk this weekend to check out some of the murals too!  From the CB Mural Project Website: "Celebrating the Kid in all of Us- this Youth Mural is inspired by all the activities you can enjoy on the island. From building sandcastles on the beach to bodyboarding to biking to playing soccer at Mike Chappell Park, there is a sport or leisure activity for all at any age. What is your favorite play activity in Carolina Beach? "
Summer on the Boardwalk: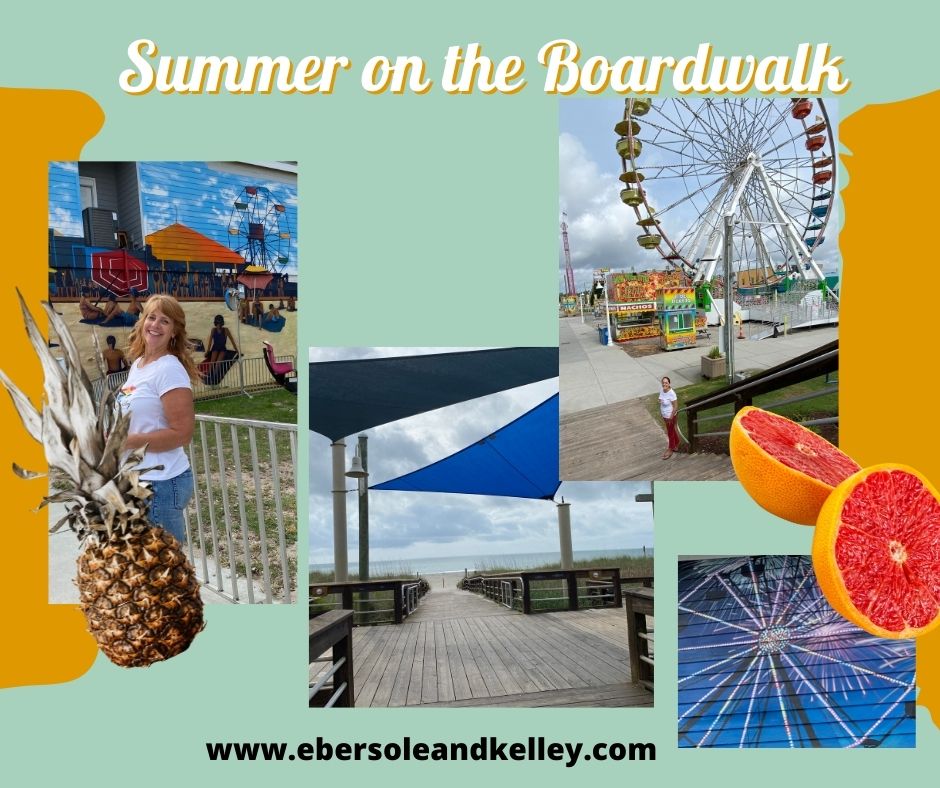 From the CB Mural Project Website:  "The Carolina Beach Boardwalk has been photographed, painted and celebrated for decades. Known as the "Playground of the Carolina's", the Boardwalk has always been a gathering place for both residents and guests."
This Must Be The Place:
From the CB Mural Project Website: "The inspiration for the mural are the brilliant Sunsets over the Carolina Beach Marina. The Marina is a gem on our island. Sunsets over the Marina delight all those who are lucky enough to experience them. They never get old. "
Stay tuned for more coming this week!
Ebersole And Kelley:  Bringing You Home
Ebersole and Kelley Real Estate Team is part of [Y]OUR community.  We're parents, we go to restaurants and participate in parades.  Last month Tammy,  took to the trails for some exercise and fresh sea air.  Carissa, popped on over to the tennis courts at Ashley High School to spend time with her children and friends. Finally in a recent blog post, we featured Deanna Benton.  Deanna speaks Spanish.   Restaurants get shout outs on our Facebook page and we want to know what your favorites are!  Follow us on Facebook to see real time updates about our adventures.  
Are You Ready To Buy Your New Home This Year Or Ready For Inspiration? Follow Us On Facebook, YouTube, Instagram Or Google!
When you're ready, give us a call at Ebersole & Kelley Real Estate Team by calling 910-619-2050
Email Tammy or Carissa. or Deanna or simply make an appointment to stop by our office located at 1001 N. Lake Blvd, Carolina Beach, NC 28428.